Refine Your Neck with a Neck Lift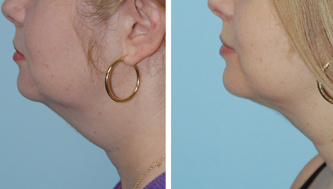 Signs of aging include deep wrinkles on the neck and face, an appearance of being tired, sagging in the neck and a poor chin definition, deep creases and jowls around the mouth and nose, and reduced skin elasticity and muscle tone loss. A graceful, smooth neckline enhances a person's appearance and portrays a certain refinement.
The Purpose of a Neck Lift
Cosmetics surgeons help people of all ages achieve a naturally beautiful neckline. Without making other face changes, improving a sagging, wrinkled, or thick neck, dramatically improves a person's appearance. The patient looks younger and appears to lose weight. A neck lift is mini procedure that people choose in the war against aging. The procedure removes years of visible aging. The neck area is often the facial feature that is a dead give away of aging. Sagging neck bands and loose skin become visibly obvious. They have the potential of making someone look older than they are. It restores a younger, balanced, and refreshed appearance. The ideal time to begin anti-aging treatments is at the first appearance of aging signs. Hollywood celebrities advise starting early and continuing treatments on a regular basis. The typical patient is in her or his 20s through early 50s. The best results occur for people with good skin tone.
Benefits include eliminating small amounts of saggy fat and skin and refining angles from the neck to the chin. Neck lifts restore facial feature balance by providing a jawline that frames the entire face. There are limitations. Jowls and neck bands often remain. Keep in mind it is a mini procedure. Those eligible for a neck lift have skin that is fairly elastic. People with overladen neck bands are not eligible.
It is essential to discuss the procedure in depth with the surgeon to ensure you make the right choice. It is less invasive than a facelift. The procedure involves removing excess sagging and loose fat and skin, lifting the chin, and if necessary, recontouring the neck.
The Procedure and Recovery
Unlike a facelift, that involves incisions behind the ears or under the chin, liposuction and some skin removal are enough to contour the neck. A neck lift is a single procedure sometimes combined with other cosmetic procedures. Liposuction removes excess fat. It makes no significant improvement in sagging skin. Combining with rhinoplasty or augmentation enhances facial contours further.
The patient undergoes IV or local sedation. A small liposuction cannula, inserted in a tiny incision or two behind the ears or below the chin removes excess fat and sculpts a natural contour for the neck and chin. It may be necessary to wear a chin or neck 'bra' that applies mild compression to the area and offers support.
Recovery takes from seven to ten days. Rest is a requirement for the area to heal and allow swelling and bruising to begin resolution. Patients return to work within a week and full activity after two weeks. As long as a person maintains a stable weight, the results are long-lasting. The results typically last five to ten years. Each person reacts differently.